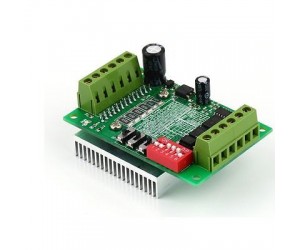 Product Images shown are for illustrative purposes only and may differ from the actual Product. Due to differences in PCB manufacturers, colours, pin mappings, markings & packaging of products/PCBs may also differ from those shown above.
Size: 75*50*35(mm)(LxWxH) / 2.95''x1.96''x1.37'' (approx)
Rated maximum output: ± 3A, peak 3.5A.
Working voltage DC 10V-35V. Recommended to use a switching power supply DC24V power supply.

Using the Toshiba TB6560AHQ new original chip with low voltage shutdown, overheating stop and over current protection circuit to ensure optimal performance.
For two-phase within 42,57 stepping 3A / four-phase / of line four / six-wire stepper motor, and is not suitable for more than 3A stepper motor. Automatic half current function.
6N137 high-speed optical coupling, guarantee high speed without losing step.
Subdivision: whole step, half-step, step 1/8, 1/16 step, a maximum of 16 Subdivisions.
TB6560 Single-Axis 2-phase Stepper Motor Controller Driver For CNC Engraving
Discuss about this Product