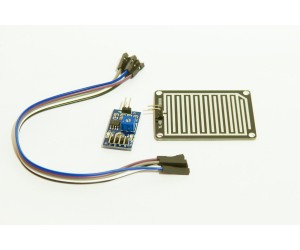 Product Images shown are for illustrative purposes only and may differ from the actual Product. Due to differences in PCB manufacturers, colours, pin mappings, markings & packaging of products/PCBs may also differ from those shown above.
The Raindrop Detection Sensor module is an easy-to-use and low cost drop recognition sensor.
The sensor works through a series of exposed parallel traces on board which produces electrical variations when drops or water volume changes. By using microcontrollers or ADC ICs (Arduino and PIC) its fairly easy to convert the analog output from the sensor to digital values. This can be directly read by an Arduino or a comparator circuit if you wish to use it as a rain detection alarm. It can be used to monitor a variety of weather conditions.
Datasheet
https://www.openhacks.com/uploadsproductos/rain_sensor_module.pdf
How to use raindrop sensor with arduino
Raindrops Detection Sensor
Discuss about this Product