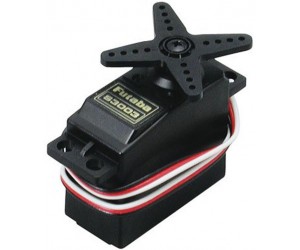 Product Images shown are for illustrative purposes only and may differ from the actual Product. Due to differences in PCB manufacturers, colours, pin mappings, markings & packaging of products/PCBs may also differ from those shown above.
Futaba S3003 is a standard servo motor which is mostly used by hobbyist and electronics student in cars, boats, servo motor standard applications.
This is the replacement for the following servos, S138,S148,S22,S38 and S12. This motor is controlled by Arduino , Raspberry pi or other microcontroller boards.This servo can produce high-current draw from your batteries. If using NiMH or LiPo batteries, make sure they are capable of delivering sufficient amps.
Specifications:
Speed: 0.23 sec/60° @ 4.8V
0.19 sec/60° @ 6V
Torque: 44 oz-in (3.2 kg-cm) @ 4.8V
57 oz-in (4.1 kg-cm) @ 6V
Dimensions: 1.6 x 0.8 x 1.4" (1-9/16 x 13/16 x 1-7/16")
(40 x 20 x 36mm)
Weight: 1.3oz (1-5/16oz) (37g)
Connector: "J" type with approx. 5" lead
5Kg -Servo Motor
Discuss about this Product