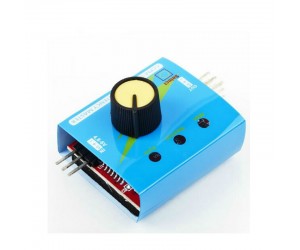 Product Images shown are for illustrative purposes only and may differ from the actual Product. Due to differences in PCB manufacturers, colours, pin mappings, markings & packaging of products/PCBs may also differ from those shown above.
A smart little servo tester than can be used to test servo motor, ESC and also to determine motor direction. Tests up to 3 servos at the same time.
The device also can be used as a signal generator for electric speed controller (ESC), for testing your motor system without using a transmitter and receiver.
It has 3 Operation Modes:
Automatic mode:- Operates servos to their end point and back "window wiper" mode: Make the servo swing like window wipers in the biggest angle
Manual mode:- Turn the knob with different speed, check the reaction time
Neutral / Center mode:- Centers servos to their neutral position Ideal for when setting servos up in a model
Specifications:
Input: DC 4.8 to 6.0V
Output signal: 1.5ms±0.5ms
Size: 36.5 x 31.0 x 22mm
Servo Tester
Discuss about this Product