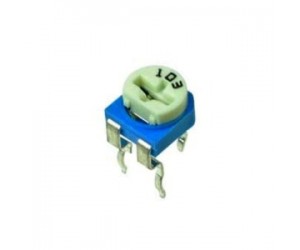 Product Images shown are for illustrative purposes only and may differ from the actual Product. Due to differences in PCB manufacturers, colours, pin mappings, markings & packaging of products/PCBs may also differ from those shown above.
Standard 10 KΩ Potentiometer (Pot)
A potentiometer is a manually adjustable variable resistor with 3 terminals. Two terminals are connected to both ends of a resistive element, and the third terminal connects to a sliding contact, called a wiper, moving over the resistive element.The position of the wiper determines the output voltage of the potentiometer.
small screw driver can be used for calibration of resistance value.

10K Potentiometer (Pot)
Discuss about this Product