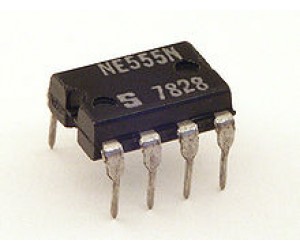 Product Images shown are for illustrative purposes only and may differ from the actual Product. Due to differences in PCB manufacturers, colours, pin mappings, markings & packaging of products/PCBs may also differ from those shown above.
The 555 Timer is the one of the most versatile linear hybrid Integrated Circuit (IC) which is used in variety of pulse generation, timer and oscillator applications.

The 555 is a highly stable device for generating accurate time delays or oscillation. Additional terminals are provided for triggering or resetting if desired. In the time delay mode of operation, the time is precisely controlled by one external resistor and capacitor. For astable operation as an oscillator, the free running frequency and duty cycle are accurately controlled with two external resistors and one capacitor. The circuit may be triggered and reset on falling waveforms, and the output circuit can source or sink up to 200mA or drive TTL circuits.
Features:
Timing from microseconds through hours
Operates in both astable and monostable modes
Adjustable duty cycle
Output can source or sink 200 mA
Output and supply TTL compatible
Normally on and normally off output
Available in 8-pin MSOP package
Applications
Precision timing
Pulse generation
Sequential timing
Time delay generation
Pulse width modulation
Pulse position modulation
Linear ramp generator
NE 555 Timer IC
Discuss about this Product