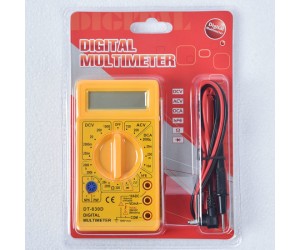 Product Images shown are for illustrative purposes only and may differ from the actual Product. Due to differences in PCB manufacturers, colours, pin mappings, markings & packaging of products/PCBs may also differ from those shown above.
The DT830D Digital Multimeter is a very affordable and handy piece of test equipment. It features an easy to read 3.5 digit LCD display. It is equipped with 5 functions and 19 ranges, each test position is quickly and easily selected with a simple turn of the single selector switch.
It also has a built-in diode test and transistor test feature. There is a buzzer for continuity test. This meter has a replaceable 0.2A/250V fuse accessible via the battery compartment.
Features
Measure DC voltage in these ranges: 200 mV 2000mV, 20V, 200V and 1000V.

Measure DC current in these ranges: 200µA, 2000µA, 20ma, 200ma and 10A.

Measure AC voltage in these ranges: 200 V and 750 V.

Measure resistance in these ranges: 200, 2000 ohms, 20, 200 and 2000 Kohms.

Transistor Hfe Measurement

Continuity Tester with Buzzer

Removable Test Leads Included
Digital Multimeter
Discuss about this Product