IR Obstacle / Distance Sensor (Line Following Module)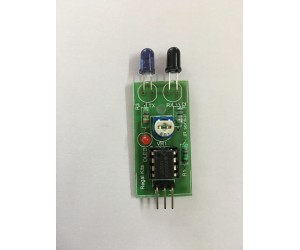 Product Images shown are for illustrative purposes only and may differ from the actual Product. Due to differences in PCB manufacturers, colours, pin mappings, markings & packaging of products/PCBs may also differ from those shown above.
This sensor module have great adaptive capability of the ambient light, having a pair of infrared transmitter and the receiver tube, the infrared emitting tube to emit a certain frequency, encounters an obstacle detection direction (reflecting surface), infrared reflected back to the receiver tube receiving, after a comparator circuit processing, the green LED lights up, while the signal output will output digital signal (a low-level signal), through the potentiometer knob to adjust the detection distance, the effective distance range 2 ~ 80cm working voltage of 3.3V-5V. The detection range of the sensor can be adjusted by the potentiometer, with little interference, easy to assemble, easy to use features, can be widely used robot obstacle avoidance, obstacle avoidance car assembly line count and black-and-white line tracking and many other occasions.

Discuss about this product here