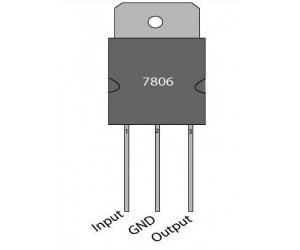 Product Images shown are for illustrative purposes only and may differ from the actual Product. Due to differences in PCB manufacturers, colours, pin mappings, markings & packaging of products/PCBs may also differ from those shown above.
7806 - Voltage Regulator – 6V
7806 is a voltage regulator integrated circuit. It is a member of 78xx series of fixed linear voltage regulator ICs.
The voltage source in a circuit may have fluctuations and would not give the fixed voltage output. The voltage regulator IC maintains the output voltage at a constant value. The xx in 78xx indicates the fixed output voltage it is designed to provide. 7806 provide +6V regulated power supply Capacitors of suitable values can be connected at input and output pins depending upon the respective voltage levels.
Datasheet:
http://www.st.com/web/en/resource/technical/document/datasheet/CD00000444.pdf
LM7806 - Voltage Regulator – 6V
Discuss about this Product