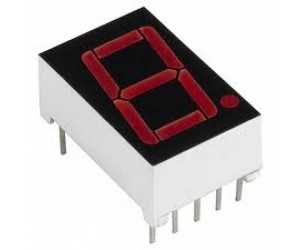 Product Images shown are for illustrative purposes only and may differ from the actual Product. Due to differences in PCB manufacturers, colours, pin mappings, markings & packaging of products/PCBs may also differ from those shown above.
Seven LEDs arranged in a rectangular fashion as shown. Each of the seven LEDs is called a segment.
There are two types of LED 7-segment display called Common Cathode (CC) and Common Anode (CA).
The Common Cathode (CC) – In the common cathode display, all the cathode connections of the LED segments are joined together to logic "0" or ground. The individual segments are illuminated by application of a "HIGH", or logic "1" signal via a current limiting resistor to forward bias the individual Anode terminals (a-g).
Datasheet:
https://www.egr.msu.edu/classes/ece480/capstone/fall10/group02/doc/Application_Note_-_Nick.pdf
7 Segment Display
Discuss about this Product