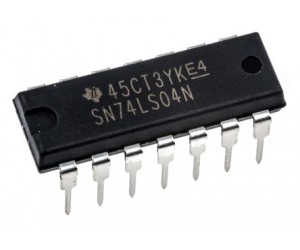 Product Images shown are for illustrative purposes only and may differ from the actual Product. Due to differences in PCB manufacturers, colours, pin mappings, markings & packaging of products/PCBs may also differ from those shown above.
7404 is a NOT Gate IC ,This a 14 pin DIP version of the popular NOT Gate IC.
7404 is a NOT gate IC. It consists of six inverters which perform logical invert action. The output of an inverter is the complement of its input logic state, i.e., when input is high its output is low and vice versa.
7404 IC are coming with diffrent manufacuturers due to that reason any 7404 IC (different series) will shipped depends upon the Stock availability
Datasheet:
IC 7404 - NOT Gate
Discuss about this Product