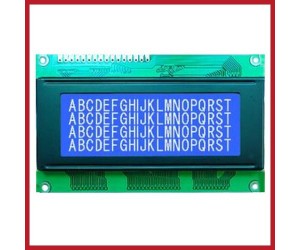 Product Images shown are for illustrative purposes only and may differ from the actual Product. Due to differences in PCB manufacturers, colours, pin mappings, markings & packaging of products/PCBs may also differ from those shown above.
Basic 20x4 Character LCD - White on Black 5V
Features:
20 characters wide, 4 rows

White text on blue background

Connection port is 0.1" pitch, single row for easy breadboarding and wiring

Single LED backlight with a resistor included, you can power it directly from 5V

Built in character set supports English/Japanese text, see the HD44780 datasheet for the full character set

Up to 8 extra characters can be created for custom glyphs or 'foreign' language support (like special accents)
Tutorial Example:
This LCD can be easily interfaced with most of the popular Development Boards such as Arduino, Raspberry Pi, Beagle Bone Black and other generic Microcontroller/SBC Boards.
• Example Tutorial for Interfacing with Raspberry Pi using Python
• Example Tutorial for interfacing with Arduino
20x4 -LCD - Alphanumeric Characters - JHD629 - White Display, Blue Backlight
Discuss about this Product