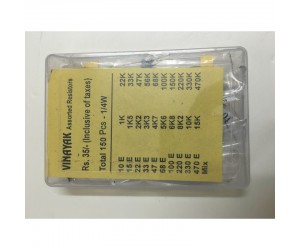 Product Images shown are for illustrative purposes only and may differ from the actual Product. Due to differences in PCB manufacturers, colours, pin mappings, markings & packaging of products/PCBs may also differ from those shown above.
Resistor Box

Assorted collection of Resistors. This Resistor Box contains a total of 150 Resistors.
The following Resistors values are available 5 each in the Box:
10E, 15E, 22E, 33E, 47E, 68E, 100E, 220E, 330E, 470E, 1K, 1K5, 2K2, 3K3, 4K7, 5K6, 6K8, 8K2,10K, 15K, 22K, 33K, 47K, 56K, 68K, 100K, 150K, 220K, 330K, 470K etc ...
The Power Rating of the resistors is 1/4W.
Resistors Box - Assorted
Discuss about this Product