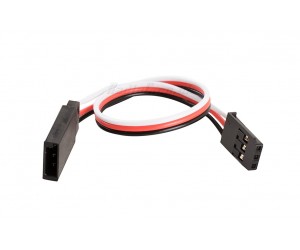 Product Images shown are for illustrative purposes only and may differ from the actual Product. Due to differences in PCB manufacturers, colours, pin mappings, markings & packaging of products/PCBs may also differ from those shown above.
This is a 12 inch Servo Extension with J Connectors
This is a 12" servo extension cable. This comes in very handy when your servo is further away from the controller than the wire on the servo allows. Male connector on one end goes to controller, female connector mates with servo. Fits all Hitec, Futaba, JR, Multiplex, and Airtronics Z servos. Wire can also be used as a simple 0.1" jumper cable.
Servo Extension Cable
Discuss about this Product