L293D Arduino motor drive shield for Servo,Stepper And DC Motor Arduino Board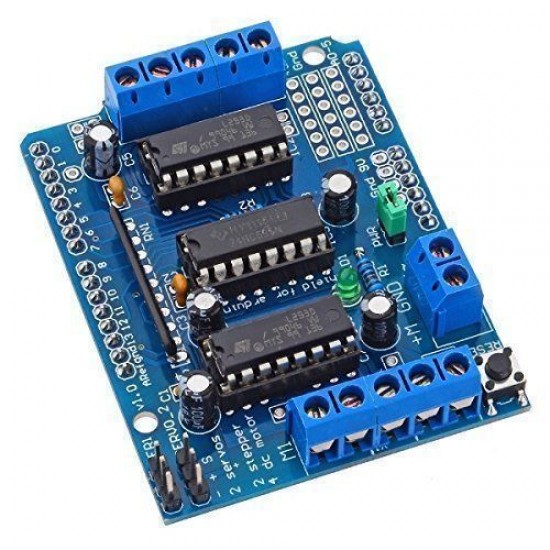 L293D Arduino motor drive shield for Servo,Stepper And DC Motor Arduino Board
Stock:

3

Model:

Motor-Shield

SKU:

PL-675
L293D Arduino motor drive shield for Servo,Stepper And DC Motor
Features:
The shield contains two L293D motor drivers and one 74HC595 shift register.

The shift register expands 3 pins of the Arduino to 8 pins to control the direction for the motor drivers.
The output enable of the L293D is directly connected to PWM outputs of the Arduino.
The Motor Shield is able to drive 2 servo motors, and has 8 half-bridge outputs for 2 stepper motors or 4 full H-bridge motor outputs or 8 half-bridge drivers, or a combination.
Up to 4 bi-directional DC motors with individual 8-bit speed selection (about 0.5% resolution)
Up to 2 stepper motors (unipolar or bipolar) with single coil, double coil, interleaved or micro-stepping.
4 H-Bridges: L293D chipset provides 0.6A per bridge (1.2A peak) with thermal shutdown protection, 4.5V to12V
Pull down resistors keep motors disabled during power-up
Big terminal block connectors to easily hook up wires (10-22AWG) and power
Arduino reset button brought up top
2-pin terminal block to connect external power, for seperate logic/motor supplies
compatible with UNO,Mega, Diecimila, & Duemilanove
Dimensions: 69mm x 53mm x 14.3mm (2.7in x 2.1in x 0.6in).