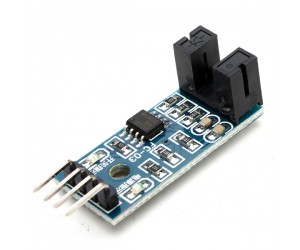 Product Images shown are for illustrative purposes only and may differ from the actual Product. Due to differences in PCB manufacturers, colours, pin mappings, markings & packaging of products/PCBs may also differ from those shown above.
Speed Measuring Sensor Counter Motor test module slot type optical coupling for Arduino.
Widely used in motor speed detection, pulse count, the position limit, etc.
Features:
Using imported trough type optical coupling sensor, groove width 5 mm.
The output state light, lamp output level, the output low level light.
Covered, output high level;Without sunscreen, the output low level.
The comparator output, signal clean, good waveform, driving ability is strong, for more than 15 ma.
The working voltage of 3.3 V to 5 V
Output form: digital switch output (0 and 1)
A fixed bolt hole, convenient installation
Small board PCB size: 3.2 cm x 1.4 cm
Use the LM393 wide voltage comparator Module
Speed Measuring Sensor
Discuss about this Product