MAX485 Module RS 485 Module TTL to RS- 485 Converter Module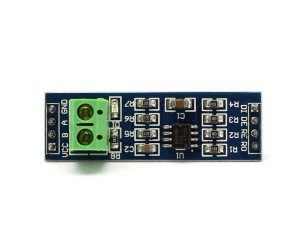 Product Images shown are for illustrative purposes only and may differ from the actual Product. Due to differences in PCB manufacturers, colours, pin mappings, markings & packaging of products/PCBs may also differ from those shown above.
The modules makes it simple to use with microcontroller's UART to to create bidirectional RS485 networks.


Specifications:
On-board MAX485 chip, low-power, Slew-Rate Transceiver

RS485 is brought out to 5.08 (mm) pitch 2P terminal for easy wiring RS-485 communication

All pins can be controlled by the microcontroller

120R terminating resistor on board

Power LED Indication

2.54mm Pitch interfacing.

Working voltage: 5V

Board size: 44 (mm) x14 (mm)

Discuss about this product here