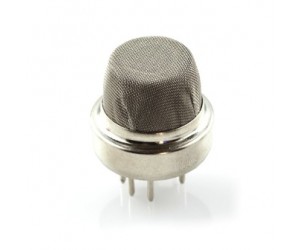 Product Images shown are for illustrative purposes only and may differ from the actual Product. Due to differences in PCB manufacturers, colours, pin mappings, markings & packaging of products/PCBs may also differ from those shown above.
MQ - 8 is a simple-to-use hydrogen (H2) gas sensor, suitable for sensing hydrogen concentrations in the air. The MQ - 8 can detect hydrogen gas concentrations anywhere from 100 - 10000ppm.
Specifications
• Operating Voltage: 4.5V to 5V DC.
• High sensitivity to Hydrogen gas.
• Small sensitivity to alcohol, LPG,cooking fumes.
• Interface type: Analog.
• Long life and low cost.
Package Content
MQ - 8 Hydrogen Gas sensor.
Application
• Industrial gas leakage detector
• Portable Gas Detector
Precaution
The gasses detected by these gas sensors can be deadly in high concentrations. Always be careful to perform gas tests in well ventilated areas.
Note:
THESE GAS SENSOR MODULES ARE NOT DESIGNED FOR OR APPROVED FOR ANY APPLICATION INVOLVING HEALTH OR HUMAN SAFETY. THESE GAS SENSOR MODULES ARE FOR EXPERIMENTAL PURPOSES ONLY.
MQ-8 Hydrogen Gas sensor
Discuss about this Product