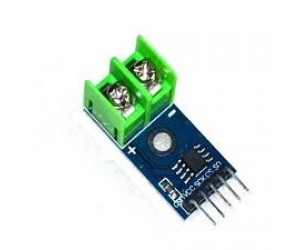 Product Images shown are for illustrative purposes only and may differ from the actual Product. Due to differences in PCB manufacturers, colours, pin mappings, markings & packaging of products/PCBs may also differ from those shown above.
This is MAX6675 Thermocouple Amplifier which has Digital Serial Data Output.Thermocouples are very sensitive, require a good amplifier with a cold-compensation reference. The MAX6675 does everything for you, and can be easily interfaced with any microcontroller, even one without an analog input. This breakout board has the chip and bypass capacitor assembled and tested. Comes with a 2 pin terminal block (for connecting to the thermocouple) and pin header (to plug into any breadboard or perfboard).
Features:
Works with any K type thermocouple
0 to 1024 degree C output in 0.25 degree increments (12 bit resolution)
3.3 to 5v power supply and logic levels
SPI data output requires any 3 digital I/O pins.
Specifications:
GND (0V)
VCC (+3.3V / 5V)
SCK (Serial Clock)
CS (Chip Select)
SO (Serial Output)
+ (Thermocouple +)
– (Thermocouple -)
MAX6675 Type K Thermocouple Temperature Sensor Module
Discuss about this Product