Esp-01 Breadboard Adapter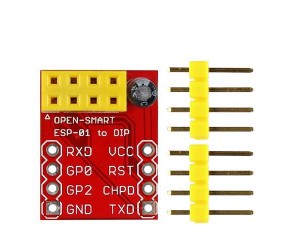 Product Images shown are for illustrative purposes only and may differ from the actual Product. Due to differences in PCB manufacturers, colours, pin mappings, markings & packaging of products/PCBs may also differ from those shown above.
As the ESP8266 ESP-01 module can not be plugged directly into the breadboard, this is a breadboard adapter for the popular ESP-01 model of the ESP8266 serial WiFi transceiver module. It is specially designed for breadboard and PCB experiment board project.It leads out all pins of the ESP-01 module directly, and marked the pin names. An electrolytic capacitor has been added to filter the power supply.
Discuss about this product here