PAM8403 Super Mini Digital Amplifier Board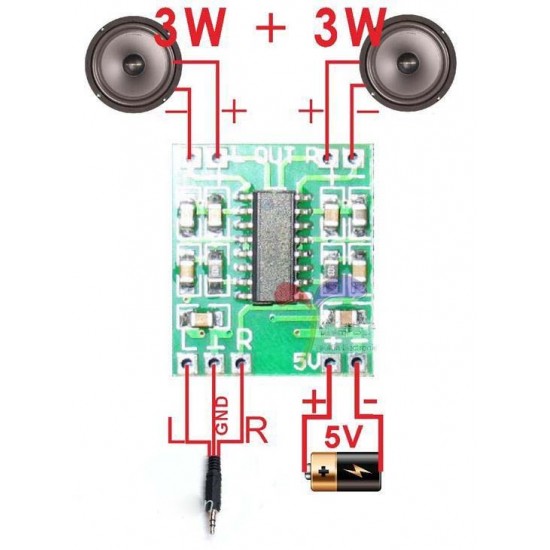 PAM8403 Super Mini Digital Amplifier Board
Stock:

10

Model:

PAM8403

SKU:

PL-726
This is a project audio amplifier circuit board based on the PAM8403 stereo amplifier chip. It is a 3 watt Class-D stereo amplifier capable of operating on a voltage as low as 2.5 V and up to a maximum of 5 V.Power Analog Microelectronics Inc., part of Diodes Incorporated, manufactures the chip. They are currently one of the best semiconductor manufacturers.
This chip is capable of driving a conventional loudspeaker directly, without the need for an output capacitor or any filtering. A 4-Ω loudspeaker will provide 3 watts maximum, providing it is powered by a 5 V source.
Specifications:
Power: DC:3.6v-5.5V
Output power: 3W +3 W (4 in Europe)
Signal-to-noise ratio: 90dB
Efficiency:> 90%
Advantages:
Special internal output processing circuit, eliminating the conventional LC network, than the LC lower EMI value;
At a lower voltage to obtain the maximum power output, the super-power;
Built-in standby electronic switch;
Built-in high-gain buffer amplifier;
Built-in short circuit protection.
Note:
Power positive and negative can not be reversed, the power supply voltage must not exceed 5.5V, two violations could result in damage to the IC.
On-chip high-gain buffer, there can be no changes to board any element parameters, does not meet the parameters will result in IC damage.
Input line, please try to use shielded lines, you can play anti-jamming, eliminate clutter current sound.
Output cmos tube BTL drive way, the negative electrode of the left and right speakers can not be connected together, four lines that connect to a speaker is completely independent, does not allow total access.