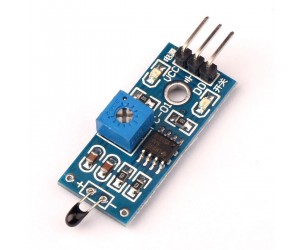 Product Images shown are for illustrative purposes only and may differ from the actual Product. Due to differences in PCB manufacturers, colours, pin mappings, markings & packaging of products/PCBs may also differ from those shown above.
The Thermistor module ambient temperature is very sensitive, generally used to detect the ambient temperature;
Through the potentiometer adjustment, you can change the temperature detection threshold?That temperature control?Such as the need to control the ambient temperature of 50 degrees, the module in the corresponding ambient temperature to which the green light, DO output is low, the temperature falls below the set value, the output is high, the green light does not shine;
DO output can be directly connected to the microcontroller through the microcontroller to detect high and low, thereby detecting temperature changes in the environment;
DO output of the relay module can directly drive the shop, which can be composed of a thermostat switch, temperature control related equipment can also be connected to the cooling fan and so on;
The temperature detection range of this module is 20 to 80 degrees Celsius;
The temperature sensor module can also be replaced with a line for controlling the water temperature, water tanks, etc.
Thermal Sensor Module
Discuss about this Product