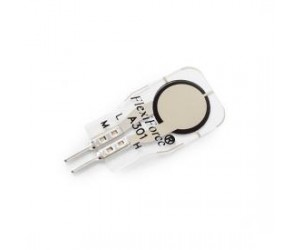 Product Images shown are for illustrative purposes only and may differ from the actual Product. Due to differences in PCB manufacturers, colours, pin mappings, markings & packaging of products/PCBs may also differ from those shown above.
This is a small force sensitive resistor. It has a 0.16" (4 mm) diameter active sensing area. This FSR will vary its resistance depending on how much pressure is being applied to the sensing area. The harder the force, the lower the resistance. When no pressure is being applied to the FSR, its resistance will be larger than 1MΩ, with full pressure applied the resistance will be 2.5kΩ.
FlexiForce™ force sensors can measure force between almost any two surfaces and are durable enough to stand up to most environments. These sensors are available off-the-shelf for prototyping or can be customized to meet the specific needs of your product design and application requirements.
Relative change in force or applied load
Rate of change in force
Force thresholds and trigger appropriate action
Contact and/or touch
Datasheet:
Force Sensor
Discuss about this Product