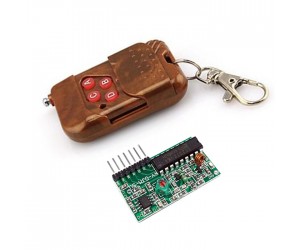 Product Images shown are for illustrative purposes only and may differ from the actual Product. Due to differences in PCB manufacturers, colours, pin mappings, markings & packaging of products/PCBs may also differ from those shown above.
This module use LC circuit design, include amplification and rectification, output data signal is decode high TTL signal which is convenient to use, cheap and use widely.
Receive module has wide receive band width, usually is ±10MHz, the default setting is 433.92MHZ. The receive module use DC5V, which can also adjust for special need.
Specification:
Working frequency (MHz):315MHz
Code methods:bonding pad code(fixed code)
Default Button Acting mode: M4
Receiver:
Voltage(V):DC5V (4.5mA)
Static State Current (mA):4.5mA
Receiver Modulation OOK.
Working temperature: -10℃~+70℃
Sensitivity(dBm):-105DB
Dimension(LWH) of receive board:41*23*7mm
Remote Controller:
Four buttons remote controller, with 12V23A battery inside.
ASK Modulation.
Power at 10mA@12V
Transmission Distance: 120-150M (Real distance will 40-70% of nominate distance)
Dimension:58*38*13mm
4CH IC 2262/2272 Key 315MHZ Wireless Remote Control Receiver module
Discuss about this Product