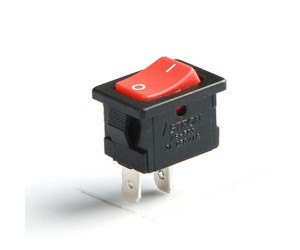 Product Images shown are for illustrative purposes only and may differ from the actual Product. Due to differences in PCB manufacturers, colours, pin mappings, markings & packaging of products/PCBs may also differ from those shown above.
A single-pole, single-throw (SPST) switch is as simple as it gets. It's got one output and one input.
The switch will either be closed or completely disconnected. SPSTs are perfect for on-off switching. They're also a very common form of momentary switches. SPST switches should only require two terminals.
SPST Rocker Switch
Discuss about this Product