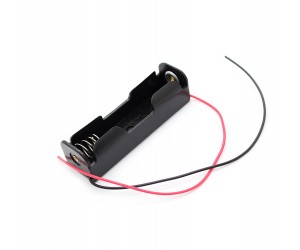 Product Images shown are for illustrative purposes only and may differ from the actual Product. Due to differences in PCB manufacturers, colours, pin mappings, markings & packaging of products/PCBs may also differ from those shown above.
Plastic single Battery holder for 18650 batteries
Suitable for holding a 18650 battery on a pcb or any circuit. Standard dimensions of this battery are:
Diameter : 18.3 ± 0.1 mm ( Max. 18.4 mm ) Height : 64.9 ± 0.2 mm ( Max. 65.1 mm ).
Two or more holders can be placed/fixed side by side for applications involving multiple 18650 cells.
Batteries are not included in this product.image is shown for demo purpose only
18650-Battery-Holder
Discuss about this Product