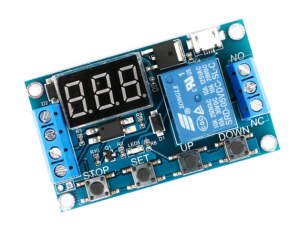 Product Images shown are for illustrative purposes only and may differ from the actual Product. Due to differences in PCB manufacturers, colours, pin mappings, markings & packaging of products/PCBs may also differ from those shown above.
Features:
Wide voltage power supply (6 ~ 30V) supports micro USB 5.0V power supply, easy to use;
The interface is clear and simple, powerful, easy to understand, meet almost all your needs;
There is a key stop function (STOP key), with reverse polarity protection, reverse polarity does not burn;
Increase the sleep mode, it enables, without any operation within 5 minutes, turn off the monitor automatically; any key to wake up;
You can set a different OP, CL, LOP parameters, which are independent of each other, were saved;
All setup parameters are saved automatically power down.
Product parameters:
Operating voltage: 6--30V support micro USB 5.0V power supply
The trigger source: high trigger (3.0V-24V) signal with no common ground system to improve anti-jamming capability of the system (also self-shorting common ground)
Output capability: You can control the DC or AC within 30v 5A within 220v5A
Quiescent Current: 20mA Operating Current: 50mA
Timing range: 0.1 seconds -999 minutes continuously adjustable;
with optocoupler isolation, enhanced anti-jamming capability, industrial grade circuit boards, set the parameters after power failure memory forever.
1 Channel - 5V Time Delay Relay Module
Discuss about this Product