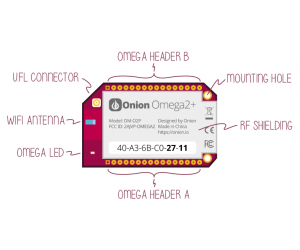 The following add-on Docks for the Onion Omega2 are also available in Stock:
Product Images shown are for illustrative purposes only and may differ from the actual Product. Due to differences in PCB manufacturers, colours, pin mappings, markings & packaging of products/PCBs may also differ from those shown above.
Note: Please also add the Expansion Dock for Omega2 in Cart if you're getting started with the Onion Omega2 for the first time.
The Omega2 comes in 2 versions: the Omega2 standard version and the Omega2 plus version.


The Omega2 Plus uses the same chipset as the Omega2, but has double the built-in storage and memory, and, on top of that, there's a MicroSD slot built in, so you'll never have to worry about running out of space!
Omega2 Plus: Linux Computer with Wi-Fi, Made for IoT
Discuss about this product here