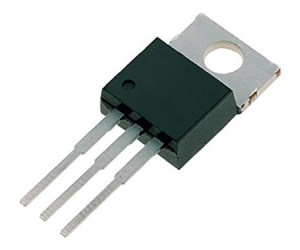 Product Images shown are for illustrative purposes only and may differ from the actual Product. Due to differences in PCB manufacturers, colours, pin mappings, markings & packaging of products/PCBs may also differ from those shown above.
The LM150T is adjustable 3-terminal positive voltage regulator capable of supplying in excess of 3A over a 1.2V to 33V output range.
This requires additional Resistors (and also a heat sink for larger output current) to get the desired Voltage. Please make sure you include them in your cart if not already available at your end.
This voltage regulator is easy to use and require only two external resistors to set output voltage. Both line and load regulations are comparable to discrete designs. The LM150 is packaged in standard transistor packages which are easily mounted and handled.
In addition to higher performance than fixed regulators, the LM150 offers full overload protection built-in IC. It features current limit, thermal overload protection and safe area protection. All overload protection circuitry remains fully functional even if the adjustment terminal is accidentally disconnected. No capacitors are needed unless device is situated more than 6inches from input filter capacitors. An output capacitor can be added to improve transient response while bypassing the adjustment pin will increase regulator's ripple rejection.
Adjustable output voltage from 1.2V to 33V
3A output current
Guaranteed thermal regulation
Output is short circuit protected
Current limit constant with temperature
P+ product enhancement tested
Ripple rejection of 86dB
Ensured 1% output voltage tolerance
Ensured maximum 0.01%/V line regulation and 0.3% load regulation
Operating temperature range 0°C ≤ TJ ≤ +125°C
Datasheet:
LM350T Linear Voltage Regulator
Discuss about this Product