GY-53 VL53L0X Laser ToF Flight Time Ranging Sensor Module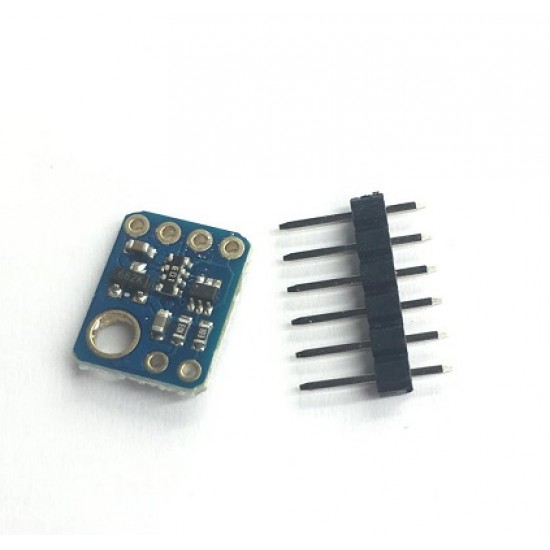 New
GY-53 VL53L0X Laser ToF Flight Time Ranging Sensor Module
Stock:

1

Model:

GY-530-VL53L0X-

SKU:

PL-1012
GY-53 VL53L0X Laser ToF Flight Time Ranging Sensor Module can be used for easy integration into your devices and basic gesture detection applications. Thanks to its 2.8V regulator and level shifters, the VL53L0X satellite board can be used in any application with a 2.8 to 5V supply.
The sensor contains a very tiny invisible laser source and a matching sensor. The VL53L0X can detect the "time of flight", or how long the light has taken to
bounce back to the sensor. Since it uses a very narrow light source.
The VL53L0X is the latest product based on ST's patented FlightSense™ technology. This is a ground-breaking technology allowing absolute distance to be measured independent of target reflectance. Instead of estimating the distance by measuring the amount of light reflected back from the object (which is significantly influenced by color and surface), the VL53L0X precisely measures the time the light takes to travel to the nearest object and reflect back to the sensor (Time-of-Flight). Combining an IR emitter and a range sensor, the VL53L0X is easy to integrate and saves OEMs long and costly optical and mechanical design optimizations.
Features:
VL53L0X 3-in-1 ranging and gesture detection sensor
Regulator: 5 to 2.8V range input voltage (output voltage: 2.8V)
VL53L0X signal interface level shifter
Serial Port PWM Output
True distance measurement independent of target size and reflectance
Able to function in multi-module applications
Small size mini-PCB
Breakout board, easy to integrate into the customer device
Allows basic gesture recognition use case.