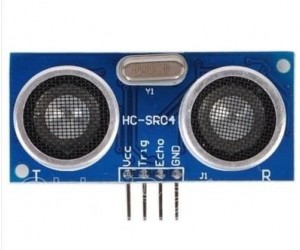 Product Images shown are for illustrative purposes only and may differ from the actual Product. Due to differences in PCB manufacturers, colours, pin mappings, markings & packaging of products/PCBs may also differ from those shown above.
The HC-SR04 ultrasonic sensor uses sonar to determine distance to an object like bats or dolphins do.
It offers excellent range accuracy and stable readings in an easy-to-use package. It operation is not affected by sunlight or black material like Sharp rangefinders are (although acoustically soft materials like cloth can be difficult to detect).Ultrasonic Ranging Module HC-SR04 provides 2cm-300cm non-contact distance sensing capabilities,Ranging accuracy up to 3mm; module comprises an ultrasonic transmitter, a receiver and a control circuit.
Datasheet:
HC-SR04 -Ultrasonic Sensor
Discuss about this Product