Grove Soil Moisture Sensor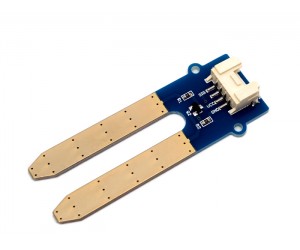 Product Images shown are for illustrative purposes only and may differ from the actual Product. Due to differences in PCB manufacturers, colours, pin mappings, markings & packaging of products/PCBs may also differ from those shown above.
This Moisture Sensor can be used to detect the moisture of soil or judge if there is water around the sensor, let the plants in your garden reach out for human help. They can be very to use, just insert it into the soil and then read it. With help of this sensor, it will be realizable to make the plant remind you : Hey, I am thirsty now, please give me some water.
Features
Easy to Use
2.0cmX6.0cm grove module

Application Ideas
Botanical gardening
Water sensor



Discuss about this product here