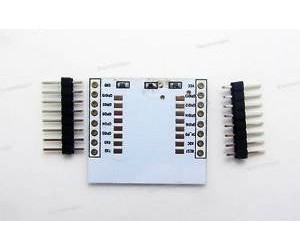 Product Images shown are for illustrative purposes only and may differ from the actual Product. Due to differences in PCB manufacturers, colours, pin mappings, markings & packaging of products/PCBs may also differ from those shown above.
Breakout board for ESP 12E
Tired of soldering ESP8266 ESP-12 Modules on Zero PCB for your project? Then this is the perfect Breakout board for you. This is breakout board also supports ESP8266 ESP-7 & ESP12E.
So if you are starting with IoT & if you are starting with ESP8266 ESP-12 Module then board will break out all the modules pins into standard 2.54 mm pitch thus making it compatible with breadboards.
ESP 12E Breakout Board
Discuss about this Product