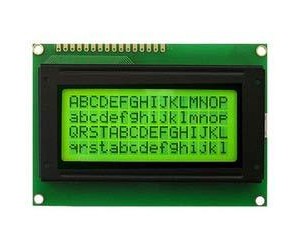 Product Images shown are for illustrative purposes only and may differ from the actual Product. Due to differences in PCB manufacturers, colours, pin mappings, markings & packaging of products/PCBs may also differ from those shown above.
Green LCD Display 20x4 Character
This is an industry standard JHD629-204A based controlled 4 lines x 20 characters LCD display with Black characters on Green background and back light. It is a parallel interface so you will need 7 pins for 4-bit mode or 11 pins for 8-bit mode to interface to this LCD screen.
Features:
Wide viewing angle and high contrast.

Industry standard JHD629-204A equivalent LCD controller built-in.

+5V DC supply with 33 Ohm resistor LED back light.

Supported 4 or 8 bit parallel interface.

Display 4-line X 20-character.

Operate with 5V DC.

Interface with 16 pin male header Connector.
20x4 -Green LCD Display Character
Discuss about this Product