Product Images shown are for illustrative purposes only and may differ from the actual Product. Due to differences in PCB manufacturers, colours, pin mappings, markings & packaging of products/PCBs may also differ from those shown above.
Overview:
WiFi Kit 8 is a cost-effective Internet of Things development board developed by HelTec Automation. The board contains the popular ESP8266 processor, 4MB Flash Memory, a CP2014 IC for USB to Serial Conversion, Lithium Battery Interface and Charge & Discharge circuit, on board WiFi Antenna and 0.91" OLED Display.

This can be programmed for Arduino and NodeMCU environments. This board is almost similar to a NodeMCU ESP8266 Dev Board (in terms of processor and core functionality) with the addition of an OLED Display & LiPo Battery circuitry.
Board Support Package for Arduino:
Instructions for installing the BSP packages of this Board for Arduino can be found here: https://github.com/Heltec-Aaron-Lee/WiFi_Kit_series/blob/master/InstallGuide/windows.md#steps-to-install-arduino-esp8266-support-on-windows
Board Pinout:

Board Dimensions: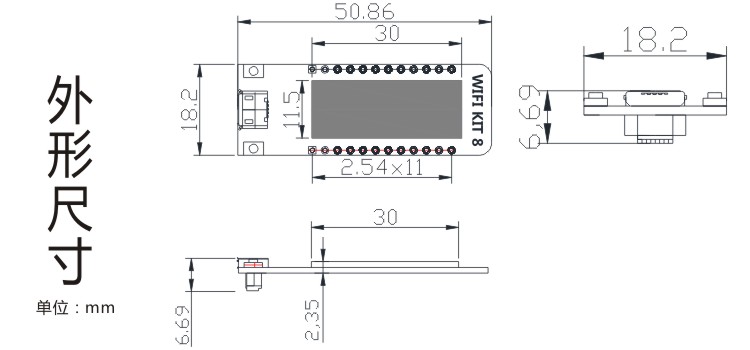 WiFi Kit 8 - ESP8266 Dev Board with OLED and LiPo Module
Discuss about this Product