4 Digit Seven Segment Display Common Cathode (Red)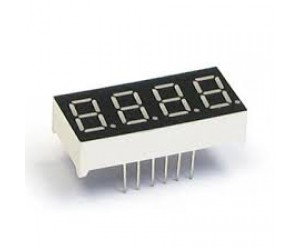 Product Images shown are for illustrative purposes only and may differ from the actual Product. Due to differences in PCB manufacturers, colours, pin mappings, markings & packaging of products/PCBs may also differ from those shown above.
This is a basic, 4-digit 7-segment display - red in color. It has a common Cathode. The display features one decimal point per digit. The LEDs have a forward voltage of 1.9VDC and a max forward current of 20mA. The hardware interface is twelve (two rows of six) through-hole pins.
Discuss about this product here