BTA16-600b 16Amp Triac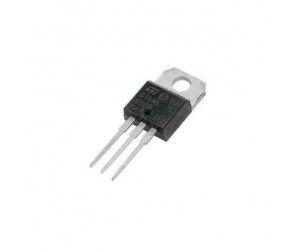 Product Images shown are for illustrative purposes only and may differ from the actual Product. Due to differences in PCB manufacturers, colours, pin mappings, markings & packaging of products/PCBs may also differ from those shown above.
BTA16-600 is 16Amp rating Triac. Its Gate trigger voltage is 1.5V and reverse voltage rating is 600V. Its operational temperature range is from -40 to 125 °C. Its package is a 3 pin TO-220AB.
Specifications:
Peak Repetitive Off-State Voltage, Vdrm: 600V

Gate Trigger Current Max (QI), Igt: 50mA

On State RMS Current IT(rms): 16A

Gate Trigger Voltage Max Vgt: 1.5V

No. of Pins: 3

Package / Case: TO-220AB

Repetitive Reverse Voltage Vrrm Max: 600V

Termination Type: Through Hole

Thyristor Type: Triac

Gate Trigger Current Max (QI), Igt: 50mA

On State RMS Current IT(rms): 16A

Gate Trigger Voltage Max Vgt: 1.5V

No. of Pins: 3

Package / Case: TO-220AB

Repetitive Reverse Voltage Vrrm Max: 600V

Termination Type: Through Hole

Thyristor Type: Triac



Datasheet:
https://www.rcscomponents.kiev.ua/datasheets/haopinfsj489ydf945dt.pdf
Discuss about this product here