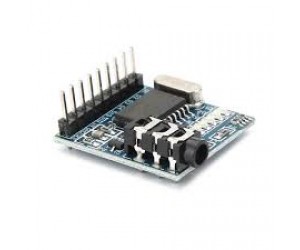 Product Images shown are for illustrative purposes only and may differ from the actual Product. Due to differences in PCB manufacturers, colours, pin mappings, markings & packaging of products/PCBs may also differ from those shown above.
This is a MT8870 DTMF Decoder Module. The module offers a 3.5mm audio connector to connect an audio source. The DTMF Signal in the audio source is decoded and the digital outputs on the module, indicate the key pressed. You may connect a phone to the module and the module will output the key(0-9, *, #, A, B, C or D)pressed on the audio source. This module is suitable for modem interfaces, mobile radios and other DTMF related applications. Can be used to build mobile controlled robots, home automation projects, IVR style applications, etc
Features:
Onboard 5 x LED indicators for easy viewing output state
DC Power Supply Voltage?5V(4.5V-5.5V)
Operating Temperature : -40-+85 °C
IO Drive : Current Maximum 10mA.
PCB Size : 25.4x25.4MM
This decoding module is for mobile and fixed telephone voice dialing decoding function
Designed specifically for ARDUINO Board. Can also be used for other MCUs(AVR PIC MSP430 STM32 ARM7/9/10/11 FPGA/CPLD)
Does not require external circuits, can be inserted directly into the UNO/MEGA2560/DUE board to use. 12 Digital outputs decode mobile and fixed telephone keys (0-9, * #).Another 4 Digital output(ABCD) can use "DTMF Dial" Software control.
MT8870 DTMF Decoder Module
Discuss about this Product