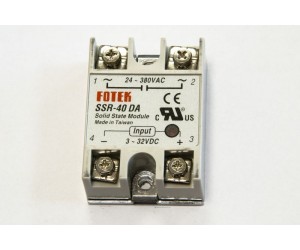 Product Images shown are for illustrative purposes only and may differ from the actual Product. Due to differences in PCB manufacturers, colours, pin mappings, markings & packaging of products/PCBs may also differ from those shown above.
SSR-40DA Solid State Relay (SSR) 3-32V DC / 24V-380V AC / 40A
Function description:
Ideal for controlling high powered AC devices.
Specifications
Product Name : Solid State Module Relay
Manufacturer : FOTEK
Model No : SSR-40DA
Rated Current : 40A
Input : DC 3-32V;
Output : AC 24-380V
Material : Metal, Plastic, Electric Parts;
Relay Size : 6.2 x 4.4 x 2.3cm/ 2.4" x 1.7" x 0.9"(L*W*T);
Main Color : Silver Tone, Gray
Weight : 104g
Onboard LED Indication
Advantages
High sensitivity
Low control power requirements
Fast switching
Reduced electromagnetic interference
Can be used for Temperature Controllers, Motor Controllers etc.
SSR-40DA Solid State Relay (SSR) 3-32V DC / 24V-380V AC / 40A
Discuss about this Product