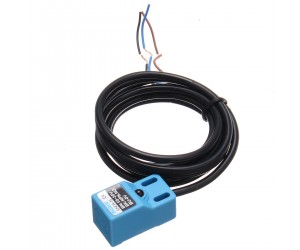 Product Images shown are for illustrative purposes only and may differ from the actual Product. Due to differences in PCB manufacturers, colours, pin mappings, markings & packaging of products/PCBs may also differ from those shown above.
This is a NPN type Inductive Proximity Sensor also called as proxy switch which can be used to detect metal upto 5mm. The distance may vary according to metal size. This is a Square Type low cost water proof and dust proof proximity sensor with LED indicator and easy Mounting.
SN04-N Sensor is very easy to use can be used with PLC for CNC applications.

Sensor Pinouts:
Brown: +VDD
Blue: GND
Black: Signal
Specification SN04-N Inductive Sensor:
Output: NPN NO
Operating Voltage: 12 to 24 Volt DC
Current Consumption: <8mA
Reverse polarity protection YES
Output
Function Normally Open
Load Current 200 mA max.
Frequency 600Hz
Sensing Range
Rated Distance 5 mm
Recommended Distance 3.2 mm
Hysteresis 10% of Sensing Range
Environment Ratings
Ambient Temperature -20~+70°C
Inductive Proximity Sensor
Discuss about this Product