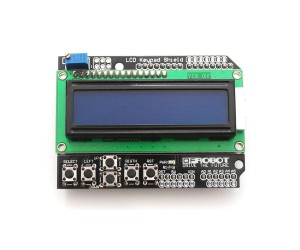 Product Images shown are for illustrative purposes only and may differ from the actual Product. Due to differences in PCB manufacturers, colours, pin mappings, markings & packaging of products/PCBs may also differ from those shown above.
16x2 Lcd and Keypad Shield is a very popular shield for Arduino uno r3 board.
It provides a user-friendly interface that allows users to go through the menu, make selections etc. It consists of a 16x2 character LCD . The keypad consists of 5 keys — select, up, right, down and left. To save the digital IO pins, the keypad interface uses only one ADC channel (Analog Pin 0). The key value is read through a 5 stage voltage divider. The LCD shield supports contrast adjustment and backlit on/off functions. It also expands analog pins for easy analog sensor reading and display.

Specifications:
Operating Voltage: 5V
6 Push buttons
Expanded Analog Pinout
LCD Shield for Arduino Uno R3
Discuss about this Product