Arduino NANO (Clone)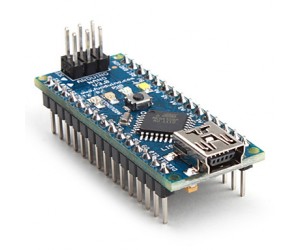 Product Images shown are for illustrative purposes only and may differ from the actual Product. Due to differences in PCB manufacturers, colours, pin mappings, markings & packaging of products/PCBs may also differ from those shown above.
Nano is an ultra-small Simple I/O platform base with open source code .Compared with the previous USB version Arduino Diecimila ,Arduino Nano has a large advantage in size. Arduino can be used to develop electronic appliances which run independently and the interactive effects;Can also be used to develop interactive work which connect to a computer and work with same Flash, Processing, Max/Msp, PD, VVVV software in cooperation.
Features:
12 Digital input / output ports:D2 ~ D13

8 analog inputs ports:A0 ~ A7

1 pairs of TTL level serial transceiver ports RX / TX

6 PWM ports:D3, D5, D6, D9, D10, D11

Using Atmel Atmega328P-AU MCU

Support USB download and Power

Support for external 5V ~ 12V DC power supply

Support power supply by 9V battery

Support ISP download





Discuss about this product here