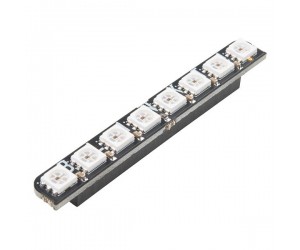 Product Images shown are for illustrative purposes only and may differ from the actual Product. Due to differences in PCB manufacturers, colours, pin mappings, markings & packaging of products/PCBs may also differ from those shown above.
Snap the Pimironi Blinkt! on top of a Raspberry Pi Zero, or any Raspberry Pi with a 2x20 connector, for a fun 1x8 RGB LED matrix powered directly from the Pi.
The Blinkt! provides a wash or controllable color that is ideal for mood-lighting, 1x8 pixel art, persistence of vision effects, status indications, or just blasting color into your surroundings.
Each pixel is individually controllable and dim-able allowing you to create gradients, pulsing effects, or just flash them on and off like crazy.
Features:
Eight APA102 RGB LEDs

Individually controllable pixels

Bright and shiny!

Sits directly on top of your Pi in a tiny footprint

Fits inside most Pi cases

Comes fully assembled
Pimoroni Blinkt!
Discuss about this Product