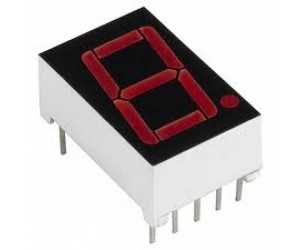 Product Images shown are for illustrative purposes only and may differ from the actual Product. Due to differences in PCB manufacturers, colours, pin mappings, markings & packaging of products/PCBs may also differ from those shown above.
Most popular type of basic display for displaying Numerical and Hexadecimal values. (Some rudimentary alphabets can also be displayed.
This is Common Cathode, Red color 7 Segment (8 including the Dot segment) display.
The displays common pin is generally used to identify which type of 7-segment display it is. As each LED has two connecting pins, one called the "Anode" and the other called the "Cathode", there are therefore two types of LED 7-segment display called: Common Cathode (CC) and Common Anode (CA).
The Common Cathode (CC) – In the common cathode display, all the cathode connections of the LED segments are joined together to logic "0" or ground. The individual segments are illuminated by application of a "HIGH", or logic "1" signal via a current limiting resistor to forward bias the individual Anode terminals (a-g).
Datasheet:
https://e-radionica.com/productdata/LD3361BS.pdf
7 Segment Display - Common Cathode (Pack of 10 pieces)
Discuss about this Product