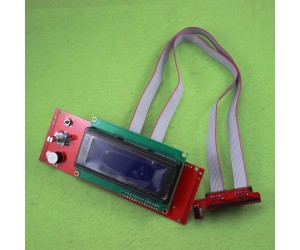 Product Images shown are for illustrative purposes only and may differ from the actual Product. Due to differences in PCB manufacturers, colours, pin mappings, markings & packaging of products/PCBs may also differ from those shown above.
3D Printers Reprap Ramps 1.4 2004 LCD Intelligent Controller Display (C5B1)
The intelligent controller includes a card reader, rotary encoders and a 20-character * 4 line LCD display.
Included a Ramps 1.4 Expansion Board for easily connect the controller to RAMPS 1.4 board.
3D design print without a computer, just use the G code design stored on the storage card.

3D Printers Reprap Ramps 1.4 2004 LCD Intelligent Controller Display (C5B1)
Discuss about this Product